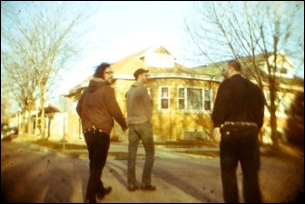 Link
here.
Kwaidan (André Foisy, Neil Jendon, Mike Weis) will be performing our second show at the Empty Bottle on Monday, March 26th with Winters in Osaka and Trevor De Brauw (Pelican).
The show will start at 9:30pm and it's free! It'll be great to play with the nice fellows in Winters and to see Trevor De Brauw play, what I believe, will be his first solo show.
This should be a fun show. Kwaidan will have a tape coming out soon on the new label that Sean from Fan Death Records is starting called Accidental Guest Recordings. The tape is a live recording of our first live show in early December 2011. We'll be recording for a split LP with High Aura'd right before this show with Greg Norman, the engineer who did an amazing job recording the Locrian & Mamiffer album.